Looking  for  a  Church?      Please  visit  or  give  us  a  call.

Sunday School...............9:45 AM
Morning Worship..........10:45 AM


263 College Hill Rd, Waco, Ky, 40385

Mail: P.O. Box 127

This page was last updated: July 13, 2017



Our Mission...

To seek first the Kingdom of God.

To go into all the world with the Good News!

To serve Jesus by serving others.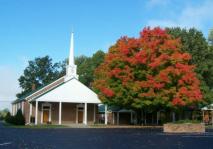 International Disaster Emergency Service

Pioneer Playhouse Trip

Friday, July 21, 8:30 pm

We will leave Flatwoods at 5:30.

"Guarded"

by Holly Hepp-Galvan and Robby Henson

A Kentucky Voices original event! World Premiere!!

A heartwarming sequel to the hugely popular Grounded. What happened to Annie, Jake and Beulah? Happily ever after or a crash landing? Find out, and discover new things about Beulah's family,  including a secret that's been buried since WWII and sends Annie on a journey across an ocean and time itself. Rated G.