Looking  for  a  Church?      Please  visit  or  give  us  a  call.

Sunday School...............9:45 AM
Morning Worship..........10:45 AM


263 College Hill Rd, Waco, Ky, 40385

Mail: P.O. Box 127

This page was last updated: July 28, 2017



Our Mission...

To seek first the Kingdom of God.

To go into all the world with the Good News!

To serve Jesus by serving others.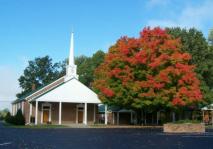 International Disaster Emergency Service

Back to School Sunday

August 13

Zack Shelton & 64 to Grayson

Concert.

August 13, 10:45 am

At Flatwoods Christian Church

Zack Shelton and 64 to Grayson have scuffs on their boots from all up and down the east coast and nothing is looking to slow them down.  Voted one of the "Top 20 Most Prospective Groups of 2014" by Music Connection Magazine, Zack Shelton and 64 to Grayson's unique blend of backwoods instruments, lyrical wit, and hardwood-pew values makes for an experience that will leave you with a smirk on your face and a tap in your toes.

The band's six-foot-three lead-singer, Zack Shelton, seen with acts such as Josh Turner, The Gaithers, and The Charlie Daniels Band is unmistakably no stranger to the stage. Being the son of Gospel musician Thomas Shelton, Zack gets his passion for music honest.  Teaming up with Zack to form 64 to Grayson are cohorts Craig Cunningham and Tiffany Baker.

This past November the group released their latest project "Loved and Free", which takes an honest look into the mind and passion of Zack Shelton and 64 to Grayson's music.  With songs about home, the road, politics, faith, and love, Zack and company's cards are laid out on the table and they hold nothing back.

Geared toward an array of all ages and backgrounds, Zack Shelton and 64 to Grayson has lit a fire of a following that is burning brighter with each show.  "Whatever God is getting ready for us," notes Zack, "we'll be charging at it face first and full-throttle."